Limitless Mind
Weekend Meditation Retreat | Carcoar | 25-27 June
"All phenomena that appear to my mind are the nature of my mind. My mind is the nature of emptiness".

Venerable Geshe Kelsang Gyatso Rinpoche
Our mind carries the potential for limitless peace and happiness. We can come to know this peace by getting beneath the surface level of our mind.  Meditating on the clarity of our mind gives us deep insight into the nature of our mind and our pure potential. Things do not exist outside the mind. They exist only as mere appearances arising from within our mind, understanding this we can live lightly with a comfortable balanced mind. When our mind is still and peaceful we are happy and ready to engage with life joyfully
During retreat we bring our attention inwards and focus on meditation practice. On this retreat we will maintain silence between the last session in the evening through to midday each day. This gives us the opportunity to remember our object of meditation and maintain the special experience of inner peace and clarity that we develop in our meditation sessions. By engaging in retreat we are making a decision to be particularly aware of what our mind is doing. Most important we stop distraction, prevent negative minds and keeping mindfulness we are able to maintain our special experience of mental peace.
Join us on this retreat weekend and give yourself the opportunity to experience the deep peace and joy that comes from meditation practice.
"When the turbulence of distracting thoughts subsides and our mind becomes still, a deep happiness and contentment naturally arises from within"  – Venerable Geshe Kelsang Gyatso Rinpoche
Retreat details
Cost: Retreat fees for the weekend include all retreat sessions, accommodation and all meals (vegetarian). Costs are varied depending on your choice of accommodation as below:
Single room | $430
Twin share room per person* | $370
Double room per person | $370
* Twin share will be with a member of the same sex unless you are sharing with a friend. Please fill out the appropriate field during your booking process to advise us.
Venue: Shalom House of Prayer. 5 Collins St, Carcoar. Approximately 40 minutes south of Orange and Bathurst, and a four-hour drive from the Central Coast.
Bookings open Sun 18 Apr @ 9am. Please note: in the possible event of COVID restrictions being tightened, priority will be given to those who booked first, and full refunds given to those who could not attend.

Teacher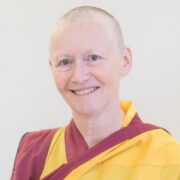 Kelsang Monlam is the Resident Teacher of Khedrubje Kadampa Buddhist Centre. She has been practising meditation and Buddhism since 2008. Kelsang Monlam presents Buddha's teachings in a light and practical manner and inspires us through example to incorporate Buddha's teachings into our daily life.
What to expect at our Weekend Meditation Retreat:
The retreat begins with dinner on Friday and finishes with lunch on Sunday. During the retreat, there will be sessions of practical, inspiring teachings and guided meditations with Resident Teacher Kelsang Monlam, with opportunities to ask questions.
During the breaks, you are free to explore the grounds of Shalom House of Prayer, or venture into the peaceful town of Carcoar. Or simply relax and enjoy the tranquil environment.
All meals and refreshments are provided throughout the weekend.
Periods of silence will be: Friday 9pm – Saturday 12.30pm; Saturday 9pm – Sunday 12.30pm.